3 minutes for impact entrepreneurs
to shine and make a lasting impression
on investors, media, experts and... you!
During our 3-day event, the most promising impact startups 
currently raising capital and seeking strategic partnerships 
will step on stage and pitch their solution for the planet
Every hour is dedicated to a specific theme or pressing global issue, 10 selected entrepreneurs
will have the chance to pitch their relevant solution to the audience and to a top-level jury.

YOUR ROLE
Whether you are an investor, a journalist, a corporate executive, a curious soul, come listen and support this shortlist of heroes of change who will share their story, and learn more about their innovative solutions for the planet!
PITCH THEMES
Over 600 entrepreneurs applied to pitch at ChangeNOW this year. Discover and learn how you can invest in their  innovative, replicable and financially viable concrete solution.
10 topics this year : Circular Economy, Changing Habits, Health and well being, Sustainable Fashion & Luxury, Sustainable cities and green mobility, Clean energy, Ocean and Water, Food, agriculture & biodiversity, Inclusion and education, Tech for Good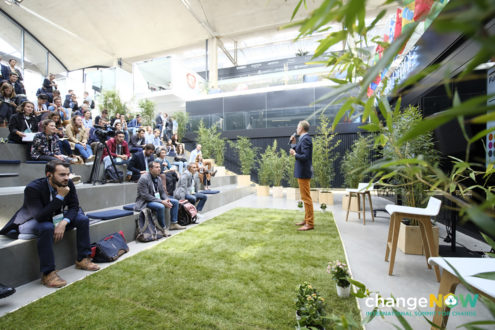 For every pitch session, our jury of top-class experts will confer a Hero of Change Award to the company with the best presentation, and thus premium visibility towards attending media and investors  
THURSDAY 30th JANUARY
10am
Clean Energy
11am
Ocean & Water
12am
Circular Challenge in partnership with CITEO
2pm
Cities & Mobility
3pm
Circular Economy in partnership with Veolia
4pm
Reverse pitch Impact Funds
5pm
Tech for Good in partnership with MAZE




FRIDAY 31st JANUARY
9am
Act for Impact in partnership with BNP
10am
Food & Agriculture
11am
Healthcare
12am
Clean Energy in partnership with Choose Paris 
1.30pm
Inclusion
2.30pm
Cities & Mobilities in partnership with Veolia
3.30pm
Circular Economy in partnership with Eau de Paris 
4.30pm
Tech for Good in partnership with Soprasteria 



SATURDAY 1st FEBRUARY
10am
Food & Agriculture
11am
Impact by EIB
12pm
Changing Habits
2pm
Education
3pm
Sustainable Fashion
4pm
Julien Vidal
5pm
Students insights


Jury participating this year :